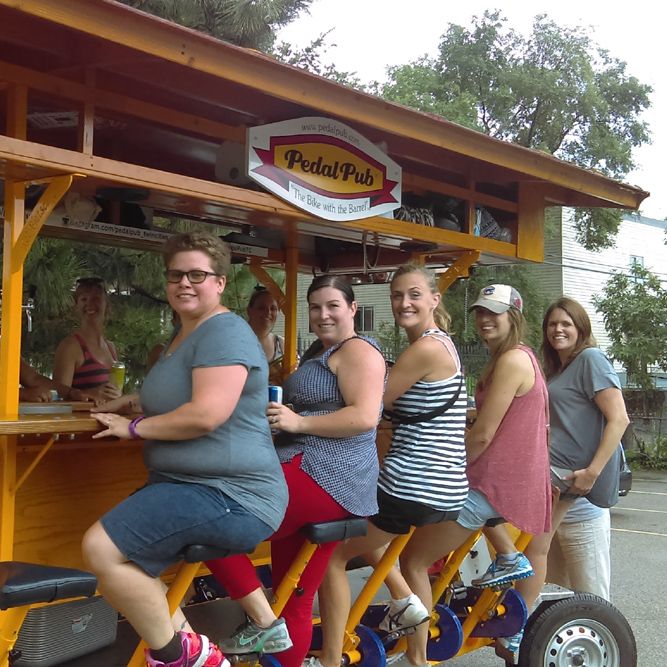 PedalPub Eat Street Food Tour
What's better than Eat Street to enjoy a food tour with PedalPub® bike??? Come jump on the PedalPub while we experience an international variety of food right here in Minneapolis. When you join this tour, we'll be enjoying food both on the PedalPub® bike and inside select restaurants. Drink pairings are recommended on the menu so you can bring aboard these beverages and enjoy these international food delights with your favorite drink. We'll pedal our way down Eat Street and through the trendy Uptown area, learn about the history of Minneapolis and soak in the local culture.
The evening will begin at a local German spot that's been around since 1965, serving a variety of authentic German food. Then our pilot will be ready for us to climb aboard and head off to the next three stops. The variety of food will include pizza that was named one of the "12 Best Old School Pizzerias" by Minnesota Monthly, authentic Mexican food from a local Mexican hot spot and end the evening with sinfully delicious ice cream.
WHAT'S INCLUDED - ALL INCLUSIVE EXPERIENCE!
2.5 hour PedalPub® tour of Eat Street and Uptown Minneapolis
4 stops with enough food for lunch or dinner
Bottle Water
Cooler to store your drinks in
Fun and knowledgeable tour guide
PedalPub pilot
Gratuities for restaurants, tour guide and pilot
BEVERAGE RULES
You are allowed to bring a cooler with ice and beverages.  Beverages in glass are not allowed.  Hard liquor is not allowed.  Beer in cans or plastic are allowed.  Wine, hard lemonade and hard cider is allowed. Soda, water and non-alcoholic beverages are allowed.
PRICING
Sunday - Wednesday: Group of 8-15 people $402 plus $47 per person
Thursday - Saturday: Group of 8-15 people $474 plus $47 per person
This location has 1 bikes to accommodate up to 15 people total
SERVICE AREA
This tour starts on Eat Street.  Starting location is on the corner of Nicollet Ave and East 27th Street - 1 E 26th St, Minneapolis